The "People" have voted, and the winner is….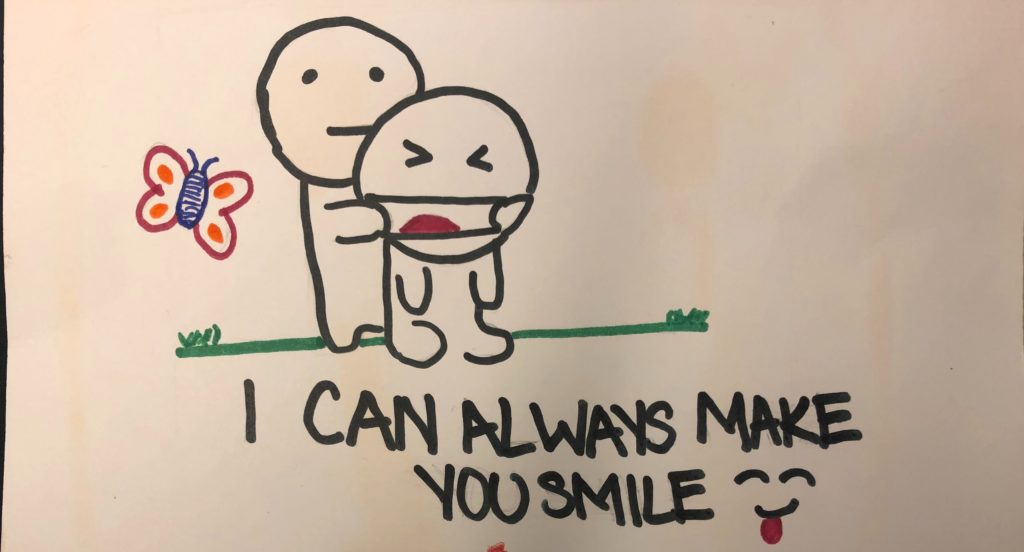 Kini-Analysa McCalmon, of Schenectady, won first place in the teen division AND the People's Choice award. With a grand total of nearly 300 votes from folks attending SummerNight on July 12 and Comic Con at the Karen Johnson Schenectady County Public Library on Clinton Street on July 13, McCalmon was judged the favorite of seven entries. McCalmon impressed with her unique approach to the necessity of laughter and friendship. McCalmon said she likes to add her own twist to pictures she likes. "I imagined the little characters as myself, I was making myself smile," McCalmon said. "I drew this to say that everyone had a friend within themselves. I drew a butterfly at the side to represent everyone's inner child because at some point in our childhood we were all obsessed with butterflies. It kind of represents purity, laughter, and happiness."
Other winning entries in the 2019 Poster Contest at Kids Arts Festival illustrate friendship in different ways. Heather Cameron of Latham impressed judges with her entry that featured two friends enjoying themselves outside of a gas station/convenience store. The design featured an exceptional use of spot color. "Friends are such a special part of life. I love having a friend who I can spend an afternoon with and just talk, share some food, and some laughs. Having that friend makes tough times that much easier to handle," said Cameron, who won first place in the adult division.
Curiosity of the story behind 8-year-old Daisy Westervelt's drawing was one factor to her winning entry in the children's division. Her ability to show textures in the design and simple rendering of three friends holding hands "made me happy," said one judge, while another said, "I would wear this on a t-shirt."
"I love to draw, and want to write and illustrate my own books," said Westervelt of Glenville. Specifically, she loves the Frog and Toad books.
There were 145 entries in the poster contest, sponsored by Nancy Bell in memory of Eli Taub and conducted by the Schenectady County Public Library. This year's contest celebrated Arnold Lobel, the Schenectady raised and successful children's book author of numerous award-winning books including the Frog and Toad series. Judges were so impressed with four additional entries that all seven were submitted for the People's Choice contest. Additional entries for the People's Choice came from Elizabeth Grace, Celeste Joo-Schwaber, Zilya G. McCalmon, and Ezra Taub.
The ElectriCity Arts District sponsors Kids Arts Festival with generous funding from MVP Health Care, the Schenectady County Legislature, and support from Proctors. Signature activities from the one-day festival were at SummerNight, Color the Canal and will be at several Family Movie Nights this year.
All entries become the property of the Schenectady County Public Library for its use.